Places To Visit


The Home Machine Quilting Show at the South Towne Exposition Center in Sandy is located minutes from downtown Salt Lake City, home of the 2002 Winter Olympics. While you're in town, take the opportunity to explore our multi-faceted community. Listen to the Mormon Tabernacle Choir, tour historic Temple Square, enjoy the splendor of our scenic canyons and mountains and savor cuisines from many lands. All this and more awaits you in the friendly, clean and safe environment of Salt Lake City.
HISTORIC TEMPLE SQUARE AND "AMERICA'S CHOIR"
Mormon Tabernacle Choir Rehearsal
Thursdays at 8:00 P.M. in the Conference Center
190 N. West Temple Public welcome, free of charge
http://www.mormontabernaclechoir.org




Mormon Tabernacle Choir
The Spoken Word
Sundays at 9:15 a.m. in the Salt Lake Tabernacle
190 N. West Temple
Public welcome, free of charge
http://www.mormontabernaclechoir.org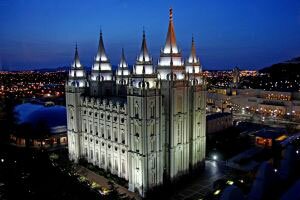 Historic Temple Square
Visitors Center Hours are 9 a.m. – 9 p.m. 7 days a week
West Temple, North Temple, Main Street and South Temple
Salt Lake City
Tours free of charge (including Legacy Theater, Beehive House, Lion House, Garden Tours and more)
http://www.visittemplesquare.com

LDS Family History Library
Tuesday – Saturday 8 a.m. – 9 p.m.
35 N. West Temple
Salt Lake City
(866) 406-1830
Free tours, public welcome. Free of charge. The collection includes over 2.4 million rolls of microfilmed genealogical records; 727,000 microfiche; 356,000 books, serials, and other formats; over 4,500 periodicals and 3,725 electronic resources.
http://www.familysearch.org/Eng/Library/FHL/frameset_library.asp

LDS Humanitarian Center
8 a.m. – 4 p.m. (not open Saturday)
1665 Bennett Rd.
Salt Lake City
(801) 240-5963
Free Tours; Public Welcome
http://www.providentliving.org/content/display/0,11666,4622-1-3271-1,00.html

Temple Square Van
Airport to Temple Square and Temple Square to Airport
Free of charge
Leaves airport every hour on the hour from 9 a.m. to 7 p.m. for Temple Square
Boards at Terminal 1, Door 1 or Terminal 2, Door 12
Leaves Temple Square every hour on the half hour from 10:30 a.m. – 8:30 p.m.
Leaves from West Gate of Temple Square
(801) 240-4872 for more information
THE ROCKY MOUNTAINS & 2002 OLYMPIC VENUES
Hiking in Salt Lake Mountains
http://www.utah.com/saltlake/hiking.htm

Trails in Rocky Mountains
http://stateparks.utah.gov/trails/

Utah Olympic Parks & Venues
http://www.olyparks.com/

More Information About Places to Visit
http://www.utah.com
http://utah.citysearch.com
http://travel.utah.gov/index.html
http://vacation.away.com/Utah/travel-v1-cid741-Utah-cid350262-Family-vacations.html?gclid=CNXexND7s5UCFQ89awodXQzuRQ


GOLF COURSES, FISHING AND OTHER LOCAL ATTRACTIONS
City Creek Center
10 a.m. – 9 p.m.; closed Sundays
50 South Main Street
Salt Lake City
(801) 521-2012
http://shopcitycreekcenter.com
This unique shopping environment features a retractable glass roof, a creek that runs through the property, a pedestrian skybridge and more. This world-class fashion and dining destination offers over 100 stores and restaurants.
River Oaks Golf Course
9300 Riverside Dr
Sandy – nearest public course to venue
(801) 568-4653
http://www.riveroaksmunigolf.com

Willow Pond – must have license to fish
6059 S Murray Parkway Ave.
Murray (Salt Lake City)
(801) 264-2614

Thanksgiving Point
World's largest man-made waterfall, beautiful gardens (tulips and roses), farm country, world's largest dinosaur museum, golf course, movie theater, shops and dining.
(801) 672-6040
3003 North Thanksgiving Way
Lehi (about 15 minutes drive from venue)
http://www.thanksgivingpoint.com

Jordan Commons
Includes Megaplex Theatres (including IMAX) and several restaurants. 9400 So. State Street Sandy — Across the street from the South Towne Expo Center
(801) 304-4577
http://www.megaplextheatres.com/showtimes/sandy_jordan_commons.ph

The Living Planet Aquarium
725 East 10600 South
Sandy
(801) 495-4448
Sun. – Thurs. 10 a.m.-7 p.m. and Fri. & Sat. 10 a.m.-8p.m.
www.thelivingplanet.com

The Gateway
Open-air shopping destination. Over 130 restaurants and stores. Includes a movie theater.
18 North Rio Grande Street
Salt Lake City
(801) 4560-2000
http://www.shopthegateway.com

Clark Planetarium
Free exhibits, Star Dome theatre, IMAX theatre and cosmic light shows.
Open 7 days a week. Opens at 10:30 a.m. daily. Closes at 6 p.m. Sunday, 8 p.m. Mon.-Wed., 9 p.m. Thurs. and 11 p.m. Fri. & Sat.
110 South 400 West at the Gateway
Salt Lake City
http://www.clarkplanetarium.org

MUSEUMS
Hill Aerospace Museum
7961 Wardleigh Rd, Building 1955
Hill Air Force Base (Ogden)
(801) 777-6868
http://www.hill.af.mil/library/museum/index.asp

Museum of LDS Church History & Art
Mon. – Fri. 9 a.m.- 9 p.m. and 10 a.m.-7p.m. Sat. & Sun.
45 North West Temple Street
Salt Lake City
(801) 240-4615
http://www.lds.org/churchhistory/museum

Utah Museum of Fine Arts
Marcia & John Price Museum Bldg., 410 Campus Center Drive
Salt Lake City
10:30 a.m.-5:30 p.m. and 8 p.m. on Wed.
(801) 581-7332
www.umfa.utah.edu

BYU Museum of Art
Mon.-Fri. 10 a.m.-9 p.m. and 12 p.m.-5 p.m. Saturdays
BYU, North Campus Drive
Provo (about 25 minute-drive from venue)
(801) 422-8287
http://cfac.byu.edu/index.php?id=194


Sacred Gifts Exhibit at the BYU Museum of Art
http://sacredgifts.byu.edu
A collection of religious paintings by Carl Bloch, Heinrich Hofman, and Frans Schwarz. These paintings have never been seen in one place before. They have been loaned to the BYU Museum of Art from cathedrals all over Europe. The exhibit took 12 years of planning and preparation, and those who loaned the paintings say that they do not believe this type of a loan or combined exhibit will ever happen again.
Admission to see the exhibit is FREE. Simply reserve your tickets online. HMQS falls on the last weekend of the exhibit, so you should plan to reserve your ticket now – it's filling up! Also, be sure to download the free app onto your iPad, or simply rent an iPad and headphones there (just $3), as the videos and tour information will greatly enhance your experience. The exhibit takes 1-2 hours to view.