Tabernacle Choir Bus Tour
Back by Popular Demand!
Hear the Famous Mormon Tabernacle Choir!
Thursday, May 8, 5-9 p.m.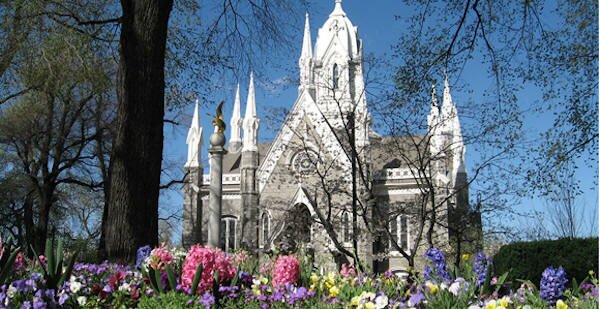 Depart the South Towne Expo Center in the luxurious comfort of Le Bus Touring Co. and enjoy the ride to Temple Square while hearing a brief history of the Salt Lake City area by the tour host.
A delicious boxed supper will be served in a private room after arrival at the Joseph Smith Memorial Building (formally the historic Hotel Utah), while listening to a special speaker.
Next you can tour Temple Square* surrounded by the colorful spring gardens, or the Visitors Center or Family History Library.
The culmination of the tour will feature the weekly rehearsal of the Mormon Tabernacle Choir of 360 voices strong accompanied by the 135 year old organ in the historic Tabernacle on Temple Square.
Board the bus for the return trip to STE and each person will receive a gift bag filled with fun surprises (a $35 value).
Featuring Guest Speaker, Beth Breinholt, life long quilter and lover of fabric. Beth has just retired from 21 years as a member of the Mormon Tabernacle Choir. Married to the same man for 39 years and still sharing three of the same interests: parenting their 7 children, playing with their grandchildren, and snorkeling in Hawaii. Beth's quilting strengths are color and design. She works part time as a gardener and just graduated from BYU in family history writing and research.
Sign up for the tour early, as seating is limited! Tour reservations can be made here after January 10, 2014 – simply scroll down and choose "Bus Tour" from the drop-down menu on the bottom left that says "Products / Tickets."
Dinner, transportation, tour, rehearsal and goodie bag all for just $47!
Go to these websites for more information about Temple Square, www.visittemplesquare.com and the Mormon Tabernacle Choir www.mormontabernaclechoir.org.
*Temple Square is a smoke free area.