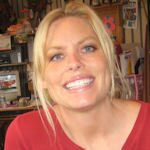 Beth Watts

Minden NV
130-W
Thread Painted Poppies
Beth has been sewing and quilting since a young girl. Beth went to work for elinor peace bailey Cloth Dolls when she was 15 and has been involved in the quilting industry for the past 26 years.

Beth's greatest passion is Dimensional Fabric Art Quilting. Beth doesn't believe in rules – she believes, we make quilts because we love to create and be inspired. None of us "need" another quilt!




Beth's Class at HMQS
Thread Painted Poppies



Wed. May 6, 6:00 PM - 10:00 PM |

130-W | $80.00



Level: Beginning, Hands-On | Category: Quilting


Create Realism and Dimension in any and all your Creative projects. With these techniques you can turn any project into something incredible! This is a great class for beginners to intermediate levels. You will learn how to Fuse Fabric, Thread Paint, Quilt and Embellish a small wall-hanging.

Kit includes: All Fabric, Fusible and Embellishments for project.

Student supply list: Black Thread, Iron, Small Ironing Pad, Applique Sheet, Scissors, Basic Sewing Supplies.