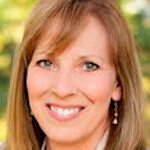 Deonn Stott

Heber City, UT
An accomplished quiltmaker, designer, quilt coach and teacher, Deonn's personal quest is to find time-saving tips tricks and tools that simplify and make the process of quiltmaking even more enjoyable, especially for new quilters.

In addition to operating her longarm quilting business, Deonn writes monthly tutorials and is featured in a series of How-to-Quilt videos for Riley Blake Designs. www.quiltscapesqs.com




Deonn's Classes at HMQS
Sheep Shape



Wed. May 6, 1:00 PM - 5:00 PM |

118-W | $141.00



Level: Beginning, Hands-On | Category: Piecing


Love Hexagons? Make this simply adorable Hexie Meadow baby quilt, quickly pieced row by row using half-hexagons. Learn three different dimensional techniques to embellish and bring this sweet quilt to life as featured on the cover of Quiltmaker Magazine May/June 2014. Quickly cut out perfect pieces in class using dies and cutters sponsored by AccuQuilt.

Kit includes: All fabric and notions to make quilt top 42" x 54", including binding.

Handout: Quiltmaker Magazine, May/June 2014 which contains the pattern.

Student supply list: Basic Sewing Kit: Neutral thread, scissors, seam ripper, pins, glue stick, etc.

In a Bind?



Wed. May 6, 5:30 PM - 6:30 PM |

129-W | $32.00



Level: Beginning, Demo/Lecture | Category: Binding


This Binding Basic class will give tips and tricks to finish your quilts with flair! We'll practice the perfect mitered corners and solve the mystery of that mystic final seam for a continuous binding on a class sample. Learn great tips to conquer curvy-edge bindings, scallops, odd-angle inside and outside points, faux piping and more. Class will wrap up with a mini trunk show of prize-winning finishes.

Kit includes: Brochure of Instructions for binding, bias binding, faux piping, scallops, prairie points, envelope finish and other "alternate endings". Small sample quilt to practice final binding splice.

Student supply list: All supplies included in your kit.
Instant Blocks - SOLD OUT





Sat. May 9, 12:30 PM - 3:30 PM

|

416-S | $102.00



Level: Beginning, Hands-On | Category: Piecing


Bust your stash and build your skills with Instant Blocks! Learn quick methods to piece quilt blocks in just minutes. Each of the seven techniques taught will produce multiple blocks/units at the same time! Make 16 to 20 blocks in class (YES, it's possible!) and learn some prize-winning tips for precision piecing. We will also discuss layout and design options - how to GROW a quilt from wall hanging to a bed-size quilt.

Kit includes: Instant Blocks pattern brochure and companion Quilter's Bible, pre-cut fabrics to make twenty 6 1/2" quilt blocks, plus Quilt-in-a-Day's 6 1/2" Triangle Square-Up ruler.

Student supply list: Basic sewing kit: thread, scissors, seam ripper, pins, glue stick, etc.