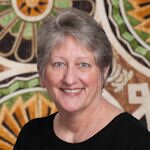 Laurie Tigner

Rapid City, SD
116-W
Soft or Crisp
Two Techniques
Ink Painting on Fabric
132-W
Beauty with Basics
Start Simple
235-T
Forget Diamonds - Feathers are a Girl's Best Friend
321-F
No Fretting Allowed – Sashing's and Borders
for Beginners
Laurie graduated from Western Carolina University in 1976 with a BS degree in Art Education. She retired in 2007 and let quilting totally consume her life.

In addition to numerous National and International quilting awards and being published in National magazines, she launched a successful pattern design company, Laurie Tigner Designs.

She loves teaching and especially enjoys encouraging new quilters to gain confidence in their own abilities.




Laurie's Classes at HMQS
Soft or Crisp - Two Techniques -
Ink Painting on Fabric

Wed. May 6, 1:00 PM - 5:00 PM |

116-W | $100.00



Level: Beginning, Hands-On | Category: Dyeing/Painting


Learn two very different techniques for using Derwent Inktense Pencils to create beautiful designs for your next quilt! Subtle, bold, or a combination of the two, the choice is yours when you use this versatile medium. You will use plain cotton fabric, a quilted sample, and three different original patterns while learning these techniques in this fun and informative, hands on class.

Kit includes: 12 pack of pencils, three original patterns for using the various techniques, water soluble marking pens, fabric and simple pre-quilted fabric panel.

Student supply list: Nothing.
Beauty with Basics - Start Simple



Wed. May 6, 6:00 PM - 9:00 PM |

132-W | $65.00



Level: Beginning, Demo/Lecture | Category: Longarm


Class designed to build confidence by starting simple, from basic fills to simple feathers. Learn the basics in an encouraging, inspiring atmosphere. Leave with the confidence to build on these skills. Learn just how much you can accomplish toward quilting something fabulous right from the beginning without all the fancy gadgets and rulers.....they will come later!

No kit, no supply list
Forget Diamonds - Feathers are a Girl's Best Friend





Thurs. May 7, 6:30 PM - 9:30 PM

|

235-T | $65.00



Level: Beginning, Demo/Lecture | Category: Longarm


You can't have enough ways of making feathers. We will go over a multitude of ways of making feathers in this small demo class. Simple feathers to what I call "feathered brocade" and you will see how fast and easy feathers can be. It doesn't take a lot of feathers to fancy up a quilt, but you will want to put them on everything after this fun class.

No kit, no supply list
No Fretting Allowed – Sashing's and Borders for Beginners





Sat. May 9, 12:30 PM - 3:30 PM

|

419-S | $65.00



Level: Beginning, Demo/Lecture | Category: Longarm


This class is for beginning or potential longarm users. I will go over various ways of keeping the whole quilt interesting, not just the center, as well as troubleshooting various problems that come up. Small trunk show included. NOTE: Must have the ability to stand around the longarm machine for class.

Student supply list: Notebook and pencils if desired.