Transportation
General Information
Parking at the South Towne Exposition Center is free.

There are no stairs at the venue.

Manual wheelchairs are available for rental at the South Towne Expo Center Security Office
(at the south end of the building) for a minimal fee with ID.

There is a nearby TRAX stop at 9400 South.

Many hotels offer complementary shuttles to and from the expo mart.

For information on other local transportation, click here.

Airport shuttle and car services click here - phone 801-596-1600 or call the Hot Lake City Shuttle, 801-953-5484. Choose Sandy, Utah here: http://www.hotlakecityshuttle.com/id130.html
New this year: TRAX airport service is now available
The in-town rail service line to the airport was completed last spring and runs every 20-30 minutes between 5:30am and 11:30pm. You can catch the green airport line into downtown Salt Lake City and then transfer to the blue line to come directly to the South Towne Expo Center. There are a number of hotels located along the route as well. Click for more information on TRAX and fares, or view the system map.

Temple Square Van
The Temple Square Visitors Center offers a shuttle van to and from Temple Square in the center of Downtown Salt Lake City and the airport if you are interested in spending some time on your own in the city.
Airport to Temple Square and Temple Square to Airport
Free of charge

Leaves airport every hour on the hour from 9 a.m. to 7 p.m. for Temple Square

Boards at Terminal 1, Door 1 or Terminal 2, Door 12

Leaves Temple Square every hour on the half hour from 10:30 a.m. – 8:30 p.m.

Leaves from West Gate of Temple Square
(801) 240-4872 for more information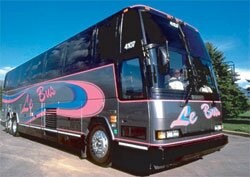 Join us for an evening trip to Temple Square to hear the world famous Choir
Thursday, May 8, 5-9 p.m
Space is limited so book soon!